| 2012/03/01 00:03 |
welder
| Via Original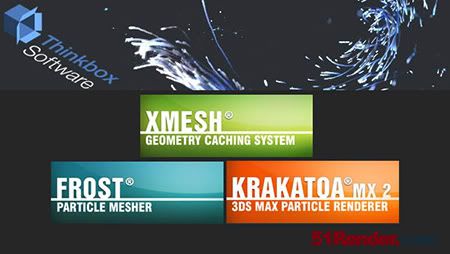 ThinkBox XMesh MX 1.0.1.46339 for 3DSMAX |
XMesh™ is Thinkbox Software's production-proven Geometry Caching system. XMesh is a set of tools for caching animated scene geometry to an external file sequence and for loading this data later for rendering.
XMesh MX is the 3ds Max implementation of the XMesh toolset. It consists of a commercial Saver plugin (XMesh Saver MX) which exposes a MAXScript Interface for processing the scene and saving the XMesh files, and a free Loader plugin (XMesh Loader MX) which performs the loading. The XMesh Saver User Interface was implemented using MAXScript and can be used as reference / starting point for custom caching solutions.
ThinkBox Frost MX 1.2.0.46170 for 3DSMAX |
FROST is a compound geometry object for 3ds Max that can be used to generate a single mesh from particles, vertex clouds, object positions, point data files or a combination thereof using various iso-surface or geometry cloning techniques.
Version 1.2 supports the 32 and 64 bit builds of 3ds Max 9, 3ds Max 2008, 3ds Max 2009, 3ds Max 2010, 3ds Max 2011, and 3ds Max 2012.
ThinkBox Krakatoa MX 2.0.1.46319 for 3DSMAX |
KRAKATOA™ is Thinkbox Software's production-proven Volumetric Particle Rendering, Manipulation and Management Toolkit. It is currently available for Autodesk 3ds Max as KRAKATOA MX 2, and will be available soon as a stand-alone renderer under the name KRAKATOA SR 2 for both Windows and Linux operating systems.

ThinkBox Frost MX, XMesh MX, Krakatoa MX For 3DsMAX
下载
Download