| 2011/08/08 20:38 |
welder
| Via Original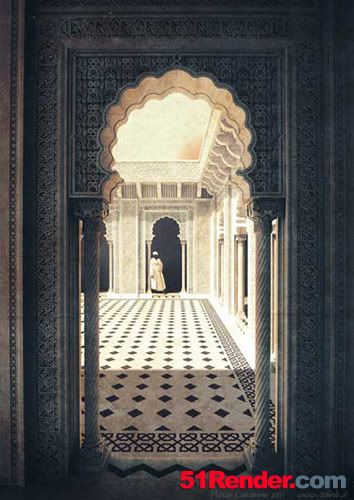 cebas Visual Technology releases Service Pack 4 for finalRender 3.5 and finalRender 3.5 SE as well as for the integrated and standalone finalToon.
With this latest Service Pack; finalToon has also seen an overhaul and enhancements, opening up a whole new world of illustration and cartoon rendering effects for 3ds max. It's full blown True Line Renderer (TLR) with unparalleled line quality and rendering speed, offers with this latest Service Pack more robustness than ever.
New in finalRender 3.5 Service Pack 4
Ocean object has a new feature and control tool, which is used to manage the cycle range animation. The wave cycle animation functionality of the fR Ocean Object has been improved so it provides a much better and controllable result when creating large animated ocean surfaces.
3ds Max 2012 material viewport compatibility has been improved; fR-Ocean material is now visible in the viewport even with full transparency settings.
3D Stereo Camera has a new added feature, were users pick specific cameras in a scene to act as the left-eye or right-eye camera for later 3D Stereoscopic rendering.
The fR Atmospheric Render Element can now offer more control and flexibility through its 'include/exclude' list option
finalRender's MT core has been optimized and extended; offering more robust and faster multi-core processing Canceling a multi-core rendering task along with its various processes has been enhanced to allow significantly faster response time
Distributed Rendering has been upgraded; resolving any reported issues with Harmonics GI and animation rendering
finalToon has been enhanced and worked on as well; breaking free from occasional 'hanging' incidents reported during the rendering of certain scenes.