| 2011/06/20 08:32 |
welder
| Via Original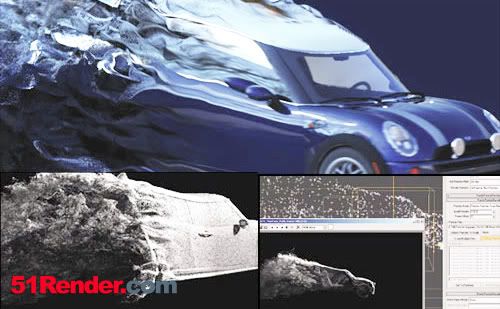 KRAKATOA is Frantic Films' production-proven Volumetric Particle
Rendering, Manipulation and Management Toolkit.
It provides a pipeline for acquiring, caching, deforming, shading and rendering vast quantities of particles at unprecedented speed to represent natural phenomena like dust, smoke, silt, ocean surface foam, plasma and even solid objects. Krakatoa integrates well with Particle Flow, the flexible 3ds Max built-in Event-Driven Particle System, and provides data exchange capabilities for sharing particles with other 3D and simulation applications.


Frantic.Films.KRAKATOA是一款粒子渲染加速软件,简单的说就是一个特殊的粒子渲染器,可以渲染以前不敢想象的粒子数量。使用Krakatoa能够管理百万到数十亿的粒子云任务,提供视觉特效的渲染的解决方案.为每帧打包更多粒子,创造空前的细节级别!有能力快速的渲染大量的粒子,实现粒子的自身体积阴影,Krakatoa提供紧密的,用户友好的整合性与3dsMax。Krakatoa让你体验灵活自由的粒子着色:可以使用任何3dsMax材质,全面支持particle flow UVW 和材质ID,使用脚本矢量通道选择固体颜色或者使用particle flow线框颜色.使用场景集合体作为无光泽(matte)的对象,在粒子上产生阴影.另外的特性包括支持运动模糊和景深.另外Krakatoa允许用户保存他们的微粒系统到磁盘为文件序列,作为以后使用。



FRANTIC FILMS KRAKATOA V1.6.1.44739 For 3dsmax9-2012 (粒子渲染加速软件) 下载 Download