| 2011/06/29 22:20 |
welder
| Via Original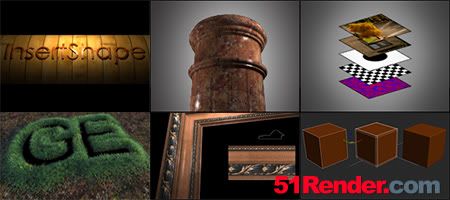 InsertShape
Is like native ShapeMerge but on steroids! It's much more correct and functional because of clever algorithms.
Using InsertShape you will get clean and predictable results. Also, you can do Local Projections – really unique and helpful feature.
Poly Profile
This modifier allow you to create a sweep between selected edges using custome shape for profile, similar to NURBS - but for editable poly. Also you can create a blend between two contours (edges selections) using automatic bulge or custome shape. In addition - you can automatically clean-up meshes after using of ShapeMerge modifier.
Map Layers
Allows you to blend multiple texture maps together using various blend modes, similar to photoshop layer blending workflow - add, screen, overlay multiply etc. In addition you can specify the opacity amount of every layer.
GradientEdge
Texture map
PolygonMap
UVW Map modifer
IES View
Interactive tool for previewing of IES files directly in 3dsMax.
Snake
New Spline object
Spiral
New Spline object.
EdgeChEx
Modifier for really advanced chamfering.
AdvOutline
Modifier for spline shapes that creates controlled outlines and removes intersections.
TwoPs
New snap plugins
MegaBevel
Modifers to create bevel of polygons
Clone
Modifers to create clone of object

VG All Plugins for 3DS Max (实用插件)
下载
Download