| 2010/06/20 23:27 |
welder
| Via Original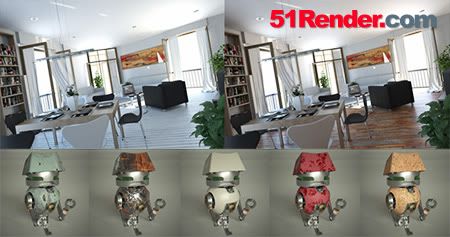 Real-time material editing.
fryrender SWAP is a revolutionary product based on our proprietary physically-based render technology. Sharing a base concept similar to fryrender's LightMixer: 'render once and get as many images as you need', SWAP enables you to change materials in your scene while keeping the photo-realistic quality of the original image, in real-time.
Who is SWAP aimed at?
fryrender SWAP is a wonderful tool and a great time saver for professionals who need:
* to create brochures with multiple variations of the same scene or object
* to discuss material variations with their archviz or productviz clients
* a tool for efficient and well-informed decision-making in a design process
Swap是一款针对fryrender渲染器的实时材质编辑器,就如它的名字那样,只需进行一次渲染, 便可以轻松替换渲染图片中的各物体材质。



RandomControl fryrender Swap 1.1 x-force (实时材质编辑器) 下载 Download