| 2011/08/01 01:23 |
welder
| Via Original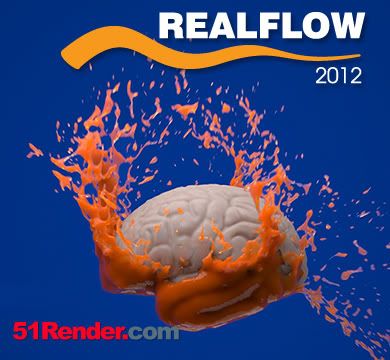 Huge improvements to Hybrido workflow and performance for RealFlow 2012!
Dripping water, automatic foam generation, faster simulations and lower memory use
New emitters: Wet, Waterline, Splash&Foam, Wet&Foam
Faster input/output operations
Distance and velocity fields and velocity and vorticity maps can now be exported
Greater controllability of fluid surface – new method of combining particles and fluid fields.
Better control of the strength of interaction between objects and fluids
Secondary splashes
RealFlow 2012 now provides a built-in, easy-to-use tool to create fractured objects directly within your project.
Voronoi fracturing method
Automatic generation of multibody node for fractured object
Optimized fractures for Caronte
The Retimer Tool in RealFlow 2012 works on any of the RealFlow 2012 elements and opens up a world of possibilities:
Bullet time effects
Reversed simulations
Slow motion effects
Dynamic simulations controlled by engines
By using Servos, it is possible to use RealFlow's dynamics solver to animate rigid bodies in a physically-correct fashion
New Layers panel – faster workflow, easier simulation, improved visibility
RealFlow 2012 also comes with some new shortcuts shelves
Nodes list can now be filtered by name

Next Limit RealFlow 2012+Plugins x86/x64 (流体动力模拟) 下载 Download