| 2011/02/28 23:19 |
welder
| Via Original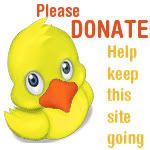 We always go in for offering free excellent CG sources since 2006 And now we meet some difficulty:
*lack of stable space to down sources.
*lack of person to manage and maintain the forum.
*lack of money to buy web host net device.

To develop forum and supply the excellent CG sources to download in the future development,we plan to rent wider BW and so we need you put in found to renew our host.

Your found will be used in these ways :
*Buy new server rent wider BW.
*Need person to maintian the forum.

All your donate will published on the 51render.com.

We will select part of donators to offer them Rapidshare.com PREMIUM-ZONE account($10) each one as a reward.
Please leave us your contact method.
Contact us:


Donate way:
1. Account in Alipay (Domestic User)


2. Account in Paypal (Oversea User)
Donate in Us The info about your donate will publish in Site immediately The list of the donate is as follow.
---
我们需要您的帮助


从06年诞生以来我们就一直致力于将各类优秀的CG资源以无偿免费的形式提供给大家。然而目前我们遇到了一些困难:
*缺乏稳定的下载空间以便为大家提供更好的下载。
*缺乏人力来管理并维护论坛的支持工作。
*需要资金购买主机等网络设备。

为了长期稳定的发展,并为广大用户提供更优质的CG资源下载服务,我们计划投入资金来更新我们的主机,租用更好的带宽。这些很大程度都需要依靠您的资助。

您的捐款将被用于:
*购买新的主机
*租用更好的带宽
*聘用论坛管理人员

所有的捐款者都将在网站上公布。
我们将选取部分捐赠者送出Rapidshare.com PREMIUM-ZONE帐号(价值10美元),所以请务必留下联系方式。
我们的联系方式:


目前的捐助方式:
1.支付宝帐户:




2.Paypal(海外用户):


一旦收到您的捐助,我们将第一时间在网站上公布。
---
Donor list(捐赠者列表):
2009.11
30USD
Ralf Meckenhäuser
Rapidshare Premium Account sent out
2009.11
10USD
Mauricio Montel
Rapidshare Premium Account sent out
2009.11
1USD
Vitaliy Sadomskiy
2009.11
15USD
Diogo Moita
Rapidshare Premium Account sent out
2009.11
10USD
Wouter Schreuders
Rapidshare Premium Account sent out
2009.11
10RMB
鴓 鴩(miedie)
2009.11
30USD
Nate Fisher
Rapidshare Premium Account sent out
2009.11
200RMB
Thunderb
Rapidshare Premium Account sent out
2009.12
20RMB
Houdini
2009.12
10USD
Ramon Aranguren
Rapidshare Premium Account sent out
2009.12
10USD
Angas Huang
Rapidshare Premium Account sent out
2009.12
2USD
Grzegorz Burchardt
2009.12
10USD
Yang Mingqing
Rapidshare Premium Account sent out
2009.12
30USD
kinron
Rapidshare Premium Account sent out
2009.12
50RMB
Vicky2006
2009.12
40RMB
xiao8203
2009.12
200RMB
heji77
Rapidshare Premium Account sent out
2009.12
20RMB
mcg
2009.12
10USD
fubang zhou
Rapidshare Premium Account sent out
2009.12
50RMB
guiqing0402
2009.12
41RMB
toolamsun
2009.12
10RMB
cobralu
2009.12
10USD
william_xie
Rapidshare Premium Account sent out
2010.01
10USD
cg007
Rapidshare Premium Account sent out
2010.01
100RMB
garerd
Rapidshare Premium Account sent out
2010.01
100RMB
独行浪客
Rapidshare Premium Account sent out
2010.01
25RMB
lyrtzy
2010.01
10RMB
sshuguang2003
2010.01
1USD
Rubinat
Rapidshare Premium Account sent out
2010.01
10RMB
lxppapa2008
2010.01
20RMB
hyleihy
2010.01
10USD
Christian
Rapidshare Premium Account sent out
2010.01
10USD
Dung Quoc Do
Rapidshare Premium Account sent out
2010.01
3USD
Lucas Caldeira
2010.02
50RMB
lineileen
Rapidshare Premium Account sent out
2010.02
100RMB
yxrnet
Rapidshare Premium Account sent out
2010.02
15RMB
miaomiao8242
2010.02
100RMB
szm
Rapidshare Premium Account sent out
2010.02
100RMB
coolpie
Rapidshare Premium Account sent out
2010.02
20USD
ale_i3
Rapidshare Premium Account sent out
2010.03
20RMB
melodylucky
2010.03
100RMB
maitian0707
Rapidshare Premium Account sent out
2010.03
5USD
zekierdek
2010.03
1.98USD
zhan.deyu
2010.03
50RMB
tihop
Rapidshare Premium Account sent out
2010.03
5RMB
a_secret
2010.03
20RMB
zhen5922009
2010.04
100RMB
zlsimon
Rapidshare Premium Account sent out
2010.04
2RMB
dxy
2010.04
50RMB
zuo814
Rapidshare Premium Account sent out
2010.04
0.15RMB
chrome23zz
2010.04
100RMB
yucats
Rapidshare Premium Account sent out
2010.04
2USD
dinhminhquoi
2010.04
50RMB
wxy12345
Rapidshare Premium Account sent out
2010.05
5USD
le3dmax
2010.05
12RMB
cycstudio
2010.05
50RMB
josephyls
Rapidshare Premium Account sent out
2010.05
1.95USD
wkyeufw
2010.06
60RMB
aixox
Rapidshare Premium Account sent out
2010.06
30RMB
yjs7505
2010.06
10USD
albert1016
Rapidshare Premium Account sent out
2010.06
15USD
Yi Xiao
Rapidshare Premium Account sent out
2010.06
15USD
bose_tang
Rapidshare Premium Account sent out
2010.06
50RMB
勤杂多面手
Rapidshare Premium Account sent out
2010.07
1USD
Jimenez
2010.07
10USD
kwchang01
Rapidshare Premium Account sent out
2010.07
25USD
judge_2x
Rapidshare Premium Account sent out
2010.07
10RMB
jinghaos
2010.07
15USD
jeff_kwok
Rapidshare Premium Account sent out
2010.08
50RMB
zhongaiyu
Rapidshare Premium Account sent out
2010.08
50RMB
yyv2000
Rapidshare Premium Account sent out
2010.08
20USD
sixcell
Rapidshare Premium Account sent out
2010.08
100RMB
xinglilyl
Rapidshare Premium Account sent out
2010.08
300RMB
hudie_design
Rapidshare Premium Account sent out
2010.08
20RMB
极度绝杀
2010.08
50RMB
caoao76
Rapidshare Premium Account sent out
2010.09
30USD
olan_key
Rapidshare Premium Account sent out
2010.09
50RMB
yucats
Rapidshare Premium Account sent out
2010.10
10RMB
itl1314
2010.11
30RMB
lm324
2010.12
20RMB
lujing7161
2010.12
150RMB
yolanda83
Rapidshare Premium Account sent out
2010.12
90RMB
zhutianyi
Rapidshare Premium Account sent out
2011.01
100RMB
wangxiao545
2011.02
50RMB
zhenshiliangmin
Rapidshare Premium Account sent out
2011.03
10RMB
alexander.mqx
2011.04
100RMB
sbdn1124
Rapidshare Premium Account sent out
2011.04
200RMB
jxsunke
Rapidshare Premium Account sent out
2011.04
100RMB
michael
Rapidshare Premium Account sent out
---